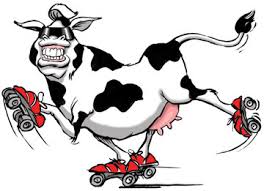 Friday Night Roller Skate (with DJ)
Time: 7–9pm
Location: Arena
Cost: Free!
Rollerblades available at our lending library. Helmets strongly recommended. 
Register Your Team
Dates: Friday, August 9, evening and Saturday, August 10, daytime
Location: Behind Arena
Cost: $250 per team
Dairyfest will take place on Saturday, August 10, 2019. 
Activities will take place in downtown Winchester at Sweet Corner Park from 9:00 am to 11:00 pm.
Corner of Main and St. Lawrence Streets
Our 2019 Schedule of Events:
Stay tuned for our updated schedule of events.
Did you know...
Like a human's fingerprints, no two cow's spots are exactly the same.