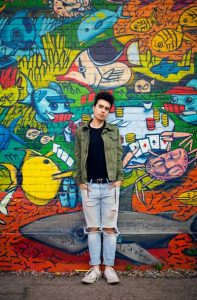 Kyle Ivan is a singer-songwriter who loves to hit the road and play live with his band as often as possible. Fans often compare him to a rougher Shawn Mendes or Max from Arkells… must be the hair? You will hear stories behind his songs that pull you in, entwined in pop-infused melodies that you'll be singing in the shower the next day.
Playing over 100 shows every year, he has found his way onto the stages of Ontario's 'Festival of Small Halls', Ottawa's 'CityFolk Marvest showcase', the 'Rockin' 1000' concert in Florence Italy, and this year is featured at Ottawa Bluesfest, opening for The Backstreet Boys on July 14th!
Whether it's a dead silent room listening to his story while sitting on the floor, or someone from the crowd pouring a beer down his throat after an improvised verse, his live show will give you something to rave to your friends about.
Facebook: https://www.facebook.com/thekyleivan/